Chistochina was originally an Athabaskan fish camp along the Copper River. Later a telegraph station was established here on the Eagle Trail, which took gold miners to the Klondike Gold Rush. The inhabitants are about 60% Athabascan and 40% Caucasians. Hunting, trapping, berry picking, and getting fish from the fishwheels are important activities for many residents of Chistochina
We have many skin sewers who make beautiful beaded moccasins, hats, gloves, purses, hair barretts, etc.
The Wrangell-St. Elias National Park is nearby, but the North entrance is 35 minutes away by car.
Mt. Sanford, at 16, 237 feet is viewable from our front deck.
Caribou cross here during their spring and fall migrations and can often be seen in the yard and crossing the road in front of the B & B. Travelers in the spring and fall need an eye out for caribou crossing the road, as they are seemingly across the road then turn and run back across the road after the driver has sped up again.
Moose caribou, lynx, and bear are often seen by the observant person.
Trumpeter swans nest on area lakes during the summer months and can be seen in large flocks during their preparation for their migration in the Spring and Fall months.
Great Horned Owls and Bald Eagles nest in the area and can often be viewed with their young.
Chistochina Bed & Breakfast is located about 1 mile North of the Chistochina River on the West side of the Tok Cutoff.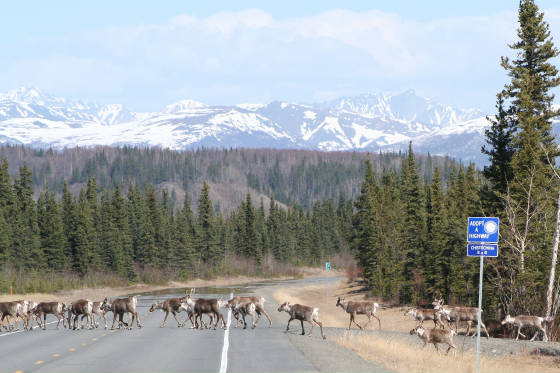 Caribou crossing the Tok Cutoff at the Chistochina Bed and Breakfast Adopt a Highway sign.